We Buy Collections
Looking to sell all your wrestling merchandise? Look no more, we buy large collections!
What The World Is Watching buys out large wrestling collections. If you are interested in selling your collection please contact us with the following information:

How Many Items Are Inlcuded

What Rare Items Are Inlcuded

Photographs in .GIF or .JPG Format (Do not send .ZIP or any other files)

What Items Are Damaged

Your Price For Everything (Do not ask us to make an offer, just tell us YOUR PRICE)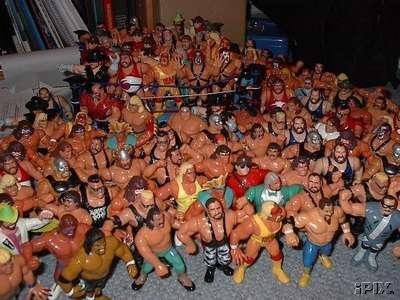 How It Works: If we are able to come to terms on a deal, we will purchase your collection, no questions asked! Its that easy! All we ask of you is to be as honest as possible when describing your merchandise!

The Details: We only purchase the following items: Loose AWA Remcos, Mint on Card AWA Remcos, Loose LJNs, Mint on Card WWF LJNs, Loose WWF Hasbros, Mint on Card WWF Hasbros, Loose WCW Galoobs, Mint on Card WCW Galoobs, MOC Jakks. We prefer to purchase lots consisting of 100 or more items. We will also purchase large lots of any wrestling related merchandise: T-Shirts, Magazines, Videos, Championship Belts, Autographs, and etc. We do not purchase loose WWF Jakks Figures.

What The World Is Watching is not responsible for lost or damaged mail. Seller may be asked to provide references, a telephone number, a verified address, and a sworn statement. What The World Is Watching may ask seller to send items prior to receiving payment.
People have realized "What The World Is Watching" since 12/11/97
LE FastCounter