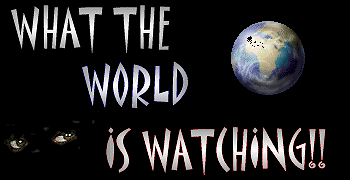 What The World Is Watching
Also Known As: ToysandMusic, ToysandMusic.com, and WTWIW
Information: Successfully serviced all 50 states and 17 different countries.
Created: December 11, 1997
Owner: Brenden M. Moore
What The World Is Watching, was established on December 11, 1997 by Brenden M. Moore. However, that fateful day only fulfilled a dream that Brenden had seven years prior. Since the age of seven, Brenden had a passion for toys, mainly action figures. His loving family made sure he had everything from Alf to Yokozuna. On top of his passion for toys, Brenden also had a passion for making money. He would often have yardsales, to raise enough money to get his new toys. Eventually, Brenden outgrew some of his toys, but his love remained for his wrestling collection. According to Coleen, his mother, "He [Brenden] was always looking for more wrestling figures... he never stopped."
In late 1995, Brenden was introduced to the world wide web. Little did he know at the time this "new world" would change his life. Originally, Brenden would use the Internet to email jokes and research topics of interest. However, one day Brenden managed to stumble across AOL Keyword WWF (now known as WWE). Brenden best explains what happened next, "I was in Heaven! I mean they had everything from pictures, to trivia, and most importantly theme music! I was hooked and couldn't get enough... especially of the theme music." From that point on, Brenden could be found online searching for wrestling theme music either in chat rooms or on websites.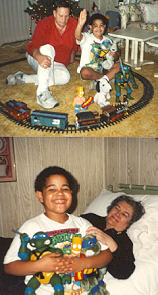 After a short period, he was able to amass an enormous collection of wrestling themes. In fact, numerous online wrestling theme music groups such as RingSongs, RareTrades, and RingThemes; requested that Brenden join their online group. Once Brenden joined, he was quickly elected the President of each of the respective groups. After obtaining leadership positions, he became friendly with the members of each group. One day RingSongsT, a member of RingSongs changed Brenden's life forever with this conversation:

RingSongsT: Hey BMan (Brenden's nickname), do you have any wrestling figures?
Brenden: Sure do, lots of them, why?
RingSongsT: Iím missing some from my collection and if you have Demolition, Iíll pay you $30 for them.
Brenden: $30? DEAL!

At the time, thirty dollars was a lot of money for Brenden. The transaction was quickly completed and Brenden began to think about selling the rest of his collection.
Once Brenden realized the potential of selling action figures, he compiled a list naming every item he had and how much he wanted for it. He would go into chat rooms and enter the message, "IM me if your looking to buy wrestling figures!" One day, someone instant messaged him using the screen name PrnceofPwr. According to Brenden, PrnceofPwr told him that he would do much better if he had a website to list his merchandise. He explained to Brenden that it would save him time and more people would be able to find his merchandise.

Brenden heeded this wise man's advice and went out and created the very first version of What The World Is Watching on December 11, 1997. Brenden was very proud of his achievement and began to show it off to his friends. However, Brenden failed to realize the site was horrendous! Luckily for Brenden and the viewers of the site, PrnceofPwr would come to the rescue and redesign the site. From there, Brenden quickly taught himself HTML (The language of the Internet) and began working on his new site to make it as good as possible. The site soon became acceptable and looked "rather nice" according to many.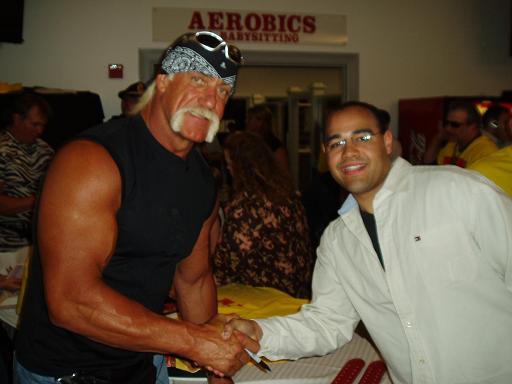 However Brenden now faced the problem of getting viewers to the site. He tried everything from advertising the site in chat rooms to joining webrings. Yet, nothing seemed to work. After brainstorming, he soon discovered why no one was visiting the site. Additionally, he was able to develop a successful solution. In fact, this solution was so successful it gave Brenden notoriety amongst all the wrestling fans on the Internet.

Using his contacts in the online music groups along with his vast amount of theme music, Brenden assembled a "Theme Music Mailing List." However, this mailing list was not only going to be open to the members of the groups that Brenden lead, but it was also opened to anyone that wanted to join. This list served the dual purpose of promoting the website and building loyalty with potential customers. Brenden's idea proved genius as he quickly amassed a mailing list of over 7,000 people. According to Bill Leaver, a member of his theme music mailing list, "Everyday he would mail out a different wrestling theme... I couldn't wait to see what was coming next! He always had something that everyone wanted... Always!"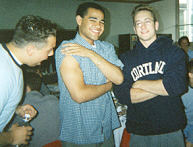 However, Brenden did not stop there. He wanted to give the people that believed in him all he could. He went ahead and redesigned his website by including an enormous amount of multimedia. "He had everything... every wrestler's theme, videos, mega mixes... along with all the merchandise... you name it, he had it!" His site was now generating thousands of visitors a day. Links to his site could be found all over the web. In fact, the site became such a success people would often steal the HTML code in order make an exact copy of the site. They would then call the replica site their own. But everyone knew the address to Brenden's site (http://members.xoom.com/BMan35)... or did they?

One day in mid 1999, Brenden began to brainstorm again. He wanted to give his customers and his aficionados an easy to remember address and a more professional design. Although Brenden was not sure if the results would be positive, he shut down his site for a month and purchased the domain ToysandMusic.com. He worked feverishly on his new site. He once stated, "I wanted to surprise everybody. I wanted to be the best. I had this urge to be truly amazing. My goal was for people to come to the site and just go, 'WOW!' "

August 18, 1999 marked the grand opening of ToysandMusic.com, the new home of What The World Is Watching. Once again, Brenden did not disappoint and went above and beyond the call of duty. He simply designed and created an awesome site! After two years of hard work, Brenden sat back and began to enjoy much of his success. ToysandMusic.com flexed its muscles and amazed its competition online all throughout 1999 and 2000. Virtually every wrestling fan knew of the site and of the BMan, Brenden Moore.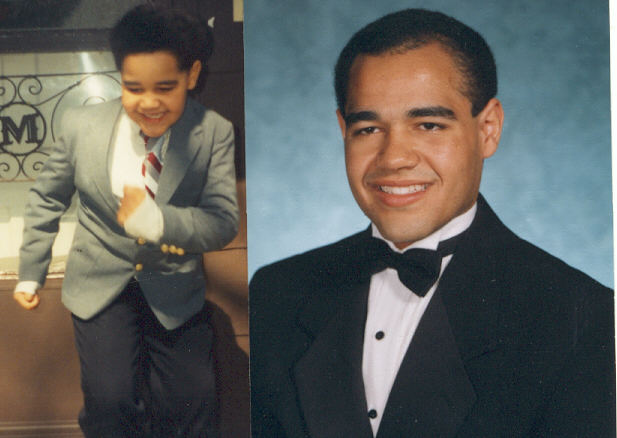 Brenden's friends were always very supportive of his efforts, but they would often warn him about the possibility of getting sued. On January 4, 2001 these predictions became reality. On that day, Brenden received notification from the World Wrestling Federation (now World Wrestling Entertainment), that they would indeed sue him for using the copyrighted materials contained on his site, ToysandMusic.com. Fortunately, Brenden was able to reach an agreement with WWE's attorneys. He agreed to remove all copyrighted materials (theme music, videos, and all other material that WWE owned) from the site. They in turn agreed not to pursue legal action. The actual correspondences between Brenden and WWE can be viewed by clicking here.

January 24, 2001 marked the end of What The World Is Watching as many came to know it. Author T.S. Eliot once wrote, "What we call the beginning is often the end. And to make an end is to make a beginning. The end is where we start from." This writting proved true, as Brenden was able to create a new beginning for ToysandMusic.com. He restructured the website from the bottom up, and his determination paid off. His efforts produced ToysandMusic.com as we now know it today: Toysand Music.com - Your One Stop Shop for Wrestling Merchandise!

As you can see, this website is a dream that has been turned into reality. Never letting his failures remain permanent, Brenden always managed to hold his head up high and carry on. As of yet, nothing has destroyed Brenden's passion. Hopefully nothing ever will.